Back to Insights
Everything You Need to Know About Google EEAT
More changes have been imposed by the almighty Google, and all content creators should take serious note. In the rise of online misinformation and AI-generated content, Google is taking a stand to serve credible, accurate, and trustworthy information on its search engine. 
How does Google plan to do this? Through an evaluation ranking system known as EEAT. Hungry? Get ready to eat up some expert insight from Overlap's digital content authorities. 
We've been on the forefront of Google quality rankings for years to ensure our clients never lose out on traffic and conversions due to an update, and we're here to share a few tips on how to make the most out of EEAT
What is EEAT?
EEAT is an acronym that stands for Experience; Expertise; Authority; and Trust.
Experience
Google wants to see that the author has "first-hand life experience" on the subject.
Expertise
Google wants to see content created by experts in their field. If you aren't an expert on the topic in question, consider collaborating with a subject matter expert, or ensure your research is comprehensive and diverse.
Authority
Google wants to see content that is being shared by others in your field. Authority is established when content receives mentions or when other experts link back to your article.
Trust
Google wants to see content from trustworthy sources. Ensure your website is trustworthy through fast load times, good navigation, having HTTPS in your domain, and more.
EEAT is not a direct Google ranking system, but Google is motivated to serve content with strong EEAT scores. Following EEAT best practices will also help you create more trustworthy, user-centric content to increase onsite conversions.
EEAT is a Quality Classifier
While not a direct ranking indicator, EEAT is a combination of factors that reflect a content author's experience, expertise, authoritativeness, and trustworthiness.
In this way, EEAT acts as a quality classifier that may offer a ranking bonus. This is especially true in certain industries, like medical, or for types of content, like YMYL articles and consultative-centric, educational information.
Digital Authority Management
Digital authority management involves managing brand reputation. It combines SEO and branding to enhance the visibility of content as it appears in search engines and AI applications, like Chat GPT and Bard.
When it comes to online content, EEAT and digital authority management go hand in hand. With the rise of generative AI and the use of large language models (LLM), the importance of digital brand management has never been greater.
Misinformation has risen to such a concerning level, search engines have identified the need to prioritize trustworthy sources to deliver accurate content in this new environment. As marketing experts, we see the need for new roles, skills, and tasks related to both digital authority management and EEAT.
If content exists about your company or leadership team online, it's hard for the average viewer to know whether or not it's true. This is why it's critical to delegate the responsibilities of building and monitoring your digital brand to an internal digital authority manager or an experienced digital marketing agency like Overlap.
What makes an author credible?
Search engines use an EEAT evaluation model that focuses on both the content material and the author, or content creator. In the context of EEAT, authors and content creators are referred to as source entities. The reputation of the content creator and the websites they host their content on play a pivotal role in how the search engine rates page quality.
Off-page sources can also have an impact on the evaluation. These include review sites, forum discussion, and direct references that provide additional insights into the reputation of the source entity.
Using EEAT for SEO
The role that EEAT is playing in Google search is undeniable, with author credibility proving crucial to content visibility and reach. And it's not just traditional Google search that's being impacted; Google Discover and Helpful Content System will also rank content accordingly.
EEAT factors can determine the display of rich snippet elements and influence indexing decisions as AI content continues to infiltrate the Internet.
Google EEAT Guidelines
So how does Google actually evaluate the content? While they're keeping the exact ranking factors close to the chest, we can surmise a list of both on- and off-page factors Google is using for EEAT evaluations.
On-page EEAT Factors
Transparency about the author via online author profiles and "About Us" pages
Use of 'https' on the page hosting the content
Quality of content across the website, including existence of "Helpful Content"
Amount of content on the website
Quotations and external links to references of other authoritative sources
Viewer engagement with created content
How to Improve Your EEAT Score
While many ranking factors may be outside of your control, there are a number of things teams can proactively do to improve the EEAT score of your website and individual content pieces.
Have an "About Us" page and showcase your content creators. Include information about what makes them an expert in their field, and add links to their LinkedIn profile and any other references that add credibility.
If you have a physical office, add the location to your website, or at least have a way for someone to contact you.
Create author pages that include all articles published by the content creator.
Share your content on social media and other relevant platforms -> engagement is a ranking factor! Tag other experts in your field with hopes they will share it. 
Publish content on a consistent schedule. 
Include links to external resources. Ensure the resources are relevant and the anchor text accurately describes the destination. 
Ensure your website has HTTPS in the domain.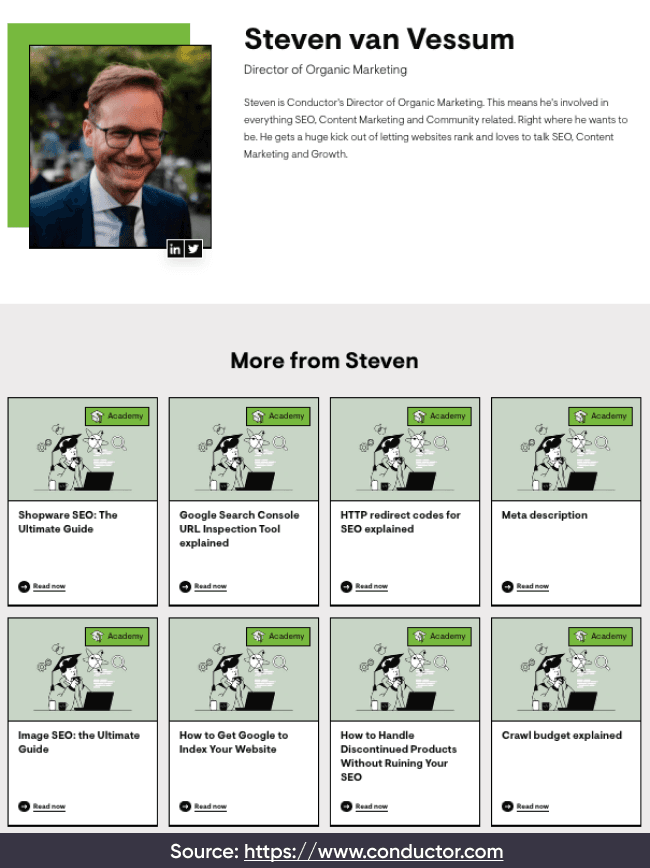 Another surefire way to improve your website's EEAT score is to work with a skilled and experienced content partner, like Overlap. We have the talent you need to create quality, credible content from both an on-page and technical perspective.
It can be difficult to build up the authority you need to achieve a desirable EEAT evaluation on your own. We've already figured out the puzzle for you. Let's talk.