Back to Insights
The Underappreciated Benefits of Optimizing GMB [Unlocking Rapid Growth]
For all of those old-school digital marketers out there, remember round-up features? Or commenting on forums and linking back to your site?
If you don't know what I am talking about, that's probably a good thing.
These were once considered legitimate SEO strategies thought to garner positive ranking signals. 
Point being...
This demonstrates how the digital marketing field is ever-evolving.
Strategies come & go with the introduction to algorithm updates, user demands, and frankly, business purposes. 
Yes, business purposes.
If you're asking yourself what I am talking about, I am referencing Google, and how they are a profit-seeking business too.
That's not a bad thing.
Although on the surface Google may seem to have the most simple website ever designed with pure intentions of providing the best search engine results possible, they have to feed themselves too.
There will be more on this later in the blog.
But essentially things change in this world, including local SEO.
That is especially the case for Google My Business, which has evolved into an integral tool for driving leads.
We know this to be a fact in function with being a digital marketing agency that provides services for companies ranging from mom & pop shops to multi-million dollar businesses.
Google My Business has become a focal point for not only SEO but driving organic leads in general.
In this piece, we are going to dive into what Google My Business looks like today, how to fully optimize around it, and why it's so important to play the game. 
Stick around because this isn't going to be dry content that you'll want to spit out in a matter of seconds. 
We've got:
Real-time case studies
Powerful data you need to know about
And imagery that quickly conveys our points for those who are more creatively inclined.
So without further ado...
Google is Transforming the SERP Landscape 
This is an understatement. Look at the difference now: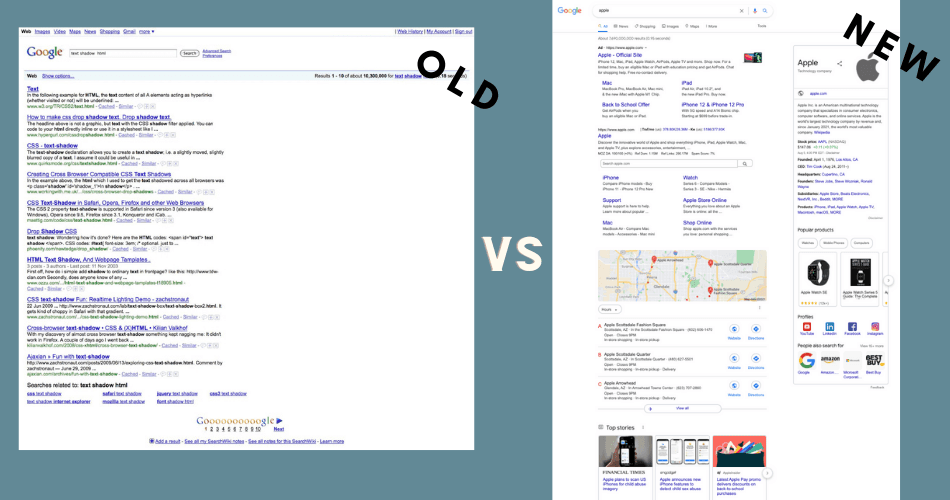 There have been innumerable SERP features that have been added over the years. This includes featured snippets, "People also ask," map packs, ad spaces, YouTube modules, Google My Business, the list goes on…
This has vast implications on digital marketing, especially on SEO. 
Google Ads results receive 65% of the clicks that started with buying keywords, while organic results only receive 35% (Craig McConnel).
Not to mention the featured snippet section.
These positions can be held by websites that don't even rank on the first page. 
This has substantial effects on organic listings by providing information to the searcher without having to click on any results. 
When a user gets the information they are searching for on Google without having to click on a result, that is called a "no-click search."
The chart below illustrates the amount of no-click mobile searches being made in the UK and US (Smart Insights).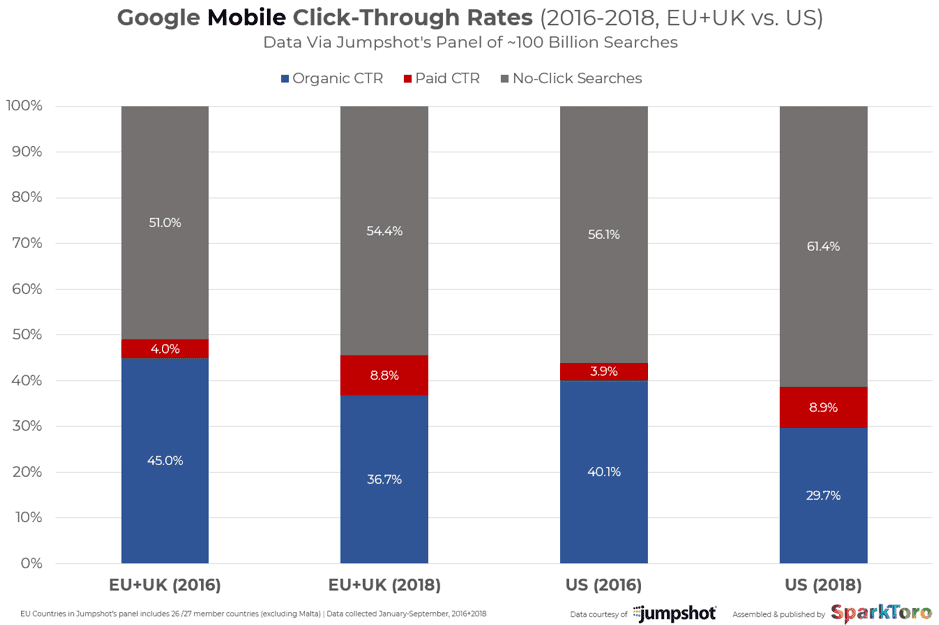 Key takeaway: in 2018, of all mobile searches made in the US, just under 30% of those searches resulted in organic clicks.To put things into context, Hubspot reports that 5.6 billion searches are made a day on Google.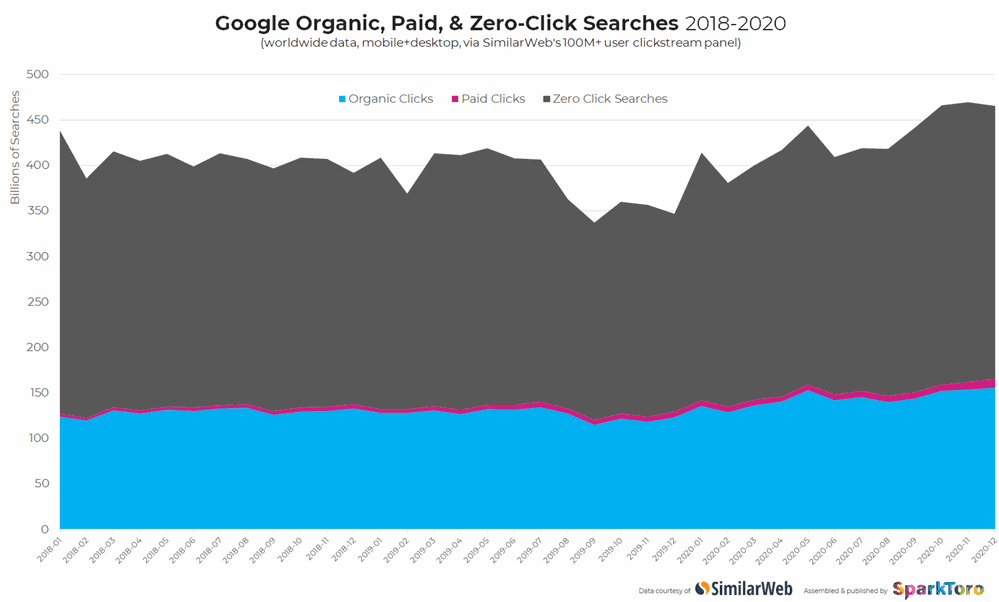 That means around 3.65 billion searches a day don't result in a click!
Yeesh, it's hard to put that into perspective. 
Let's put it this way, Google may or may not be siphoning your traffic. 
Before we start to lunge for the pitchforks, we have to understand that Google has an incentive to keep users within their own properties. 
They do this by serving information to users directly on their platform.
Let's dive into this some more to understand what is going on.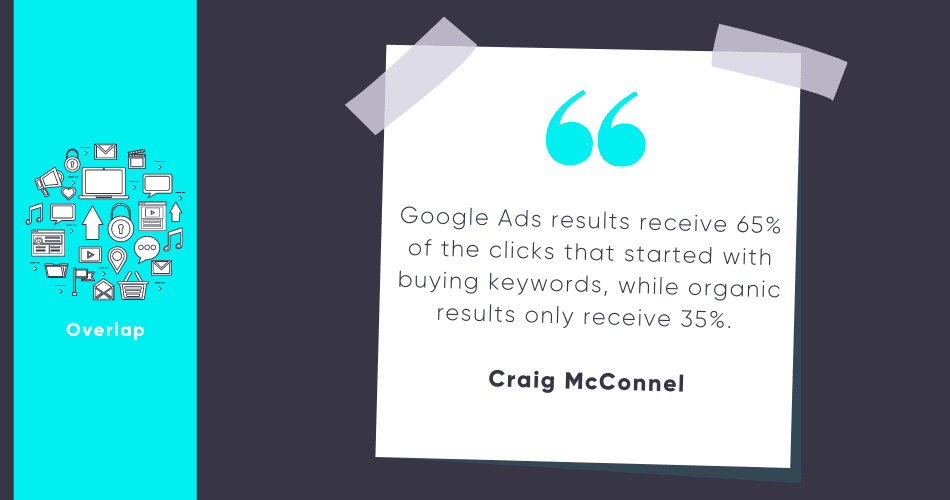 Zero Click Searches are Stealing Your Traffic
This has profound impacts on industries across the board. Some more than others.
For example, businesses that compete directly with Google are going to have an especially hard time capturing clicks. Industries such as (but not limited to) travel and review platforms may be hit harder than other industries. 
If you are a business competing in this industry, I'm sorry to say the pitchfork option may be the only solution you have.
But for businesses in other industries, you may have better opportunities to continue to leverage traffic through search engines like Google.
You have the option to react in one of two ways.
Get mad and accomplish nothing.
Or play the game and reap the potential rewards.
If you're playing probabilities, choosing the latter seems to be the safe bet.
That means optimizing your content around "on-SERP SEO" (in the words of Google).
This entails optimizing for featured snippets and adding schema markup which can raise the potential for your business to win spots on these SERP features.
This is important to note.
In response to recent data reporting a significant rise in zero-click searches, Google directly responded to the data in a blog post published in March 2021.
Danny Sullivan himself (Google's Public Liaison for Search) cites ways people use search to find what they are looking for, but may not result in a click. Instances include (but not limited to):
Looking up quick facts.
Finding local business details.
Navigating from the results directly to an app.
He's not wrong.
The key highlight from above being "finding local business details."
In other words, Google is placing more emphasis on Google My Business listings. 
And so should you.
Let's explore what this all means.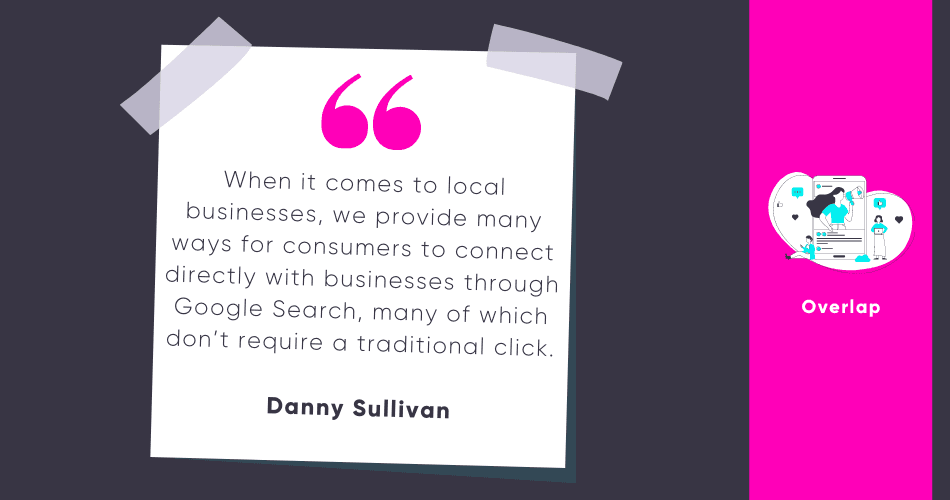 Google My Business Listings Have Evolved 
As we saw before, Google wants to keep traffic on its properties. We can't fault them for wanting to.
According to Search Engine Roundtable, "Google had a 69% increase year over year from $29.8 billion to $50.4 billion in the Google Advertising column of the earnings statement."
Make no mistake about it, those earnings didn't come out of thin air. 
Why? 
One could assume the more time someone spends on their properties, the more powerful their ads become. 
Beyond the enormous increase in their annual earnings report, there is no other factual information to corroborate this theory. But, come on...
Now that we understand Google's (very strong) incentive to keep people on their properties, not all hope is lost. 
Google has beefed up their Google My Business listings, and you need to pay attention to this.
I'll give you 5 reasons: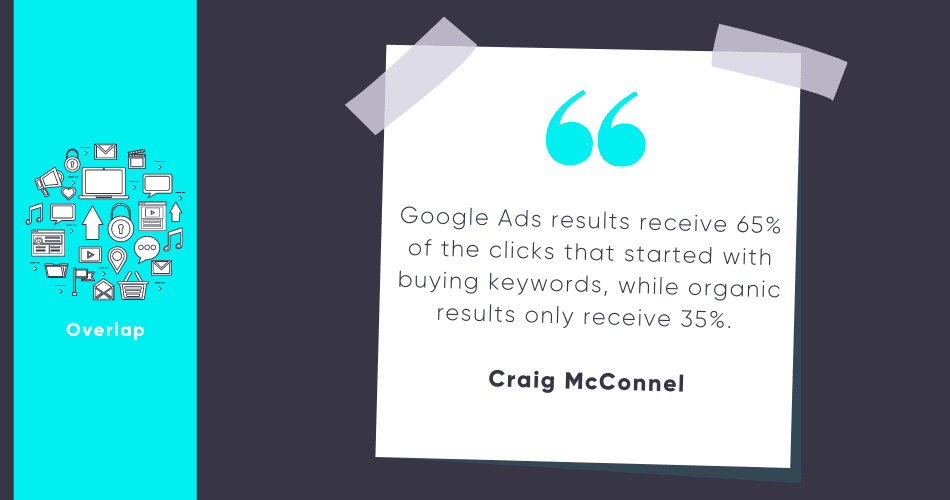 Let's take it a step further. Stats are great and all, but let's look at metrics from real people:
This is a client of ours who has detailed call tracking set-up on all three of their Google My Business locations and their website.
We know tracking has been segmented and done correctly because we did it, so the metrics are tried, true, and raw. But the results speak for themselves:

Note the difference between GMB and ads vs organic.
You can look at this another way too: Google properties vs website.
The reason users are finding so much value in the Google My Business listing without having to click through to the website is in function with these features:
Posts (like blogs, they convey tons of information to the viewer)
People can ask questions (which anyone can answer publicly)
Messaging (think of Facebook Messenger - but by Google)
Customers can book appointments directly on the listing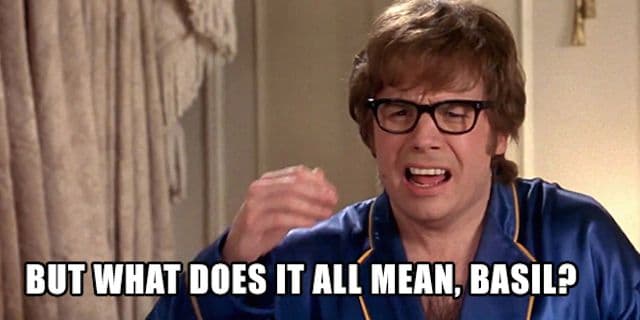 ...Optimize your listing!
If any of those features look foreign to you, and you own a local business, do your best to include them in your GMB listing. 
Be sure your essentials are optimized for your listing as well, such as:
Ensure you're NAP is correct and up-to-date (name, address, & phone number)
Add tons of images to the listing (what your business looks like)
Showcase your crew (who are people going to see/talk to when they interact with your business)
Geo-tag your images (this help target the right people in the right places)
Use schema makeup on your website (usually adding local business schema to any pages where you display your address is good practice. You can use this schema generator tool to help out with the process).
Respond to comments. We see business owners neglecting to respond to comments, questions, concerns posted directly on their GMB. Don't do this! Be as communicative on the platform as possible. This cultivates trust with the viewer.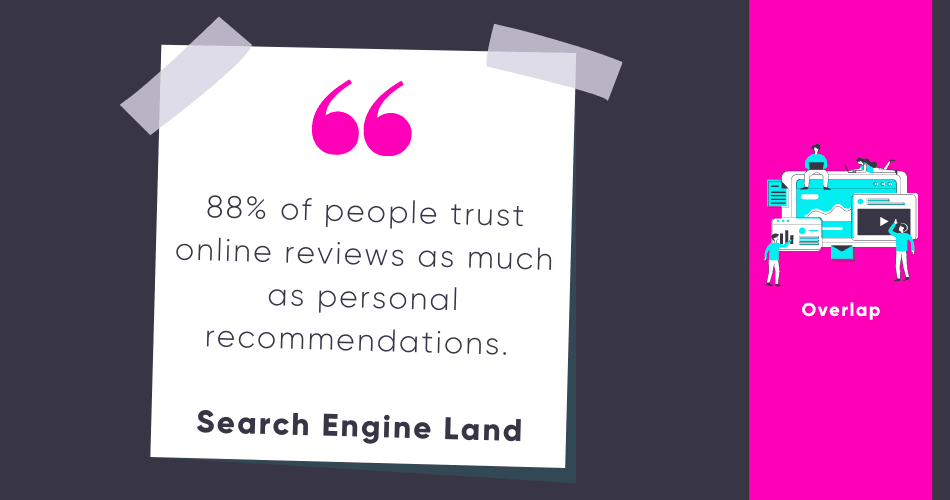 Final Words…
Digital marketing is an ever-evolving field, especially SEO. With transformations happening on almost a daily basis, it is more important than ever to keep up with the changes.
If you've made it this far, you're on the right track. Overlap has had the privilege to provide services for industries across the board at varying sizes. 
If there are any steadfast beliefs we've been able to crystalize, it's that… Google My Business is more important than ever, and it works.
Whether you are a mom & pop shop or the CMO of a multi-million dollar company, it's important to pay special attention and listen to the signs.
If you feel like leaving it to the pros is the best move, we don't fault you one bit.
You need a marketing partner who understands the ins and outs of not only Google My Business but the entire marketing ecosystem and how the different components interact with each other.
As a strategic marketing partner to many businesses alike, we'd love the opportunity to discuss options with you. 
Contact us & start maximizing your Google My Business game today.