Back to Insights
How to Conduct a Social Media Audit 
For those of us who are old enough to remember the early days of Facebook, it's hard to look at "social media" the same way now that we did back then. 
I mean…remember MySpace?! No? Just me? Ok… 👵 
Brands didn't interact on social media back then. It was purely about individual expression and social networking. While social media is still focused on the individual user, it has evolved into something entirely different. 
The wide-reaching and vast ecosystem includes entire industries based around the monetization of user data and attention, radically shifting the way social media is used.
And for businesses, participation on social media is all but required. While you can't control that, you can control which platforms you choose to dedicate time and effort towards. 
Spoiler alert. 
You can't do them all well. Performing a social media audit is an important step in reviewing and evolving your social media strategy and will serve your organization well as you grow. 
The term "audit" can spark anxiety, but never fear. The process of auditing your company's social media isn't as scary as it sounds. 
How do we know? 
With over 20 years of experience in the social media game, we know a thing or two about facilitating a comprehensive, effective audit. 
So what's the secret sauce? Glad you asked! 
Continue reading to get the down low from the experts on the ground and take inspiration from our lessons learned along the way. 
What is a social media audit? 
A social media audit is a process for evaluating a brand's social media presence and the success of related efforts. An audit is meant to identify strengths, weaknesses, and action items for improvement across owned platforms.   
The goal of a social media audit is to identify the following: 
Your most effective platforms for engagement
Who your audience is and what they want to see
How your audience is growing (or not)
How best to focus social efforts moving forward
A social media audit would typically not include individual employee social media activity, unless in the case of senior leadership in some cases, depending on their notoriety. 
However, it is advisable to set guidelines with your team if they chose to publicly associate with your company online. 
Social Media Platform Audit
Before you start dissecting individual social media accounts for branding updates, you first need to take a holistic view. 
This is how you start the process.
Identify any existing accounts associated with your business across all social media platforms. 
During this process, you may discover rogue accounts using your company's branding with no affiliation, or outdated accounts your team no longer has access to. 
Note: you may need to contact the social media platform to remove accounts you're not able to control. 
As you discover social media accounts, take time to audit platform activity. How long has it been since the account has posted consistently? This will impact your reactivation strategy, if applicable. 
What is considered a social media platform? 
Indeed, it is hard to keep up with the social media industry. As users lose interest in one platform, it seems three more enter the space to compete for our screen attention. 
So what is considered to be a social media platform and how many should you have for your business? 
Social media platforms include, but are not limited to: 
Facebook
Instagram
LinkedIn
Twitter
YouTube
TikTok
Reddit 
Pinterest
Snapchat
WhatsApp 
Tumblr
These social media platforms are some of the most heavily used in the United States but there are countless more with significant international followings like VK, Sina Weibo, QQ, and more. 
Here's the good news.
You do NOT need to use all of these for your business. The most important things to consider when deciding which platforms to focus your efforts on is: where your audience is, and how your content is best displayed. Are you a photography business? Instagram is a no-brainer. Professional services? Focus more heavily on LinkedIn. 
Social Media Profile Audit 
Taking a closer look at each social media profile will paint a picture of how consistent activity has been on each platform and how much work lies ahead to create a cohesive social media identity. 
Username and/or Handle  
Ideally, your username will be the same across all of your social media profiles. Some larger organizations may choose to have unique accounts to serve specific purposes, like support related or region-specific accounts. 
Profile and Cover Images 
Visual branding should be consistent and complementary across all social media platforms. Profile images should be sized correctly, logos shouldn't be getting cut off, and resolution on all images should be ideal. 
Profile and cover images should reflect your current branding and be sized correctly according to each social network's requirements.
Profile Verification 
Obtaining an official verification from the social media platform can add credibility to your profile. You can apply for verification on Instagram, Facebook, Twitter, and TikTok. 
Profile Details 
Depending on which social media platform you're evaluating, the amount and type of information you can include on your profile will vary. Information should remain consistent across platforms and reflect current branding and accurate company information. 
LinkedIn Profile Details 
About section: 
About intro text
Overview: Website; phone number; industry; company size; location of HQ; year founded; specialities 
Locations
Other things to keep in mind about your LinkedIn profile: 
Job postings: LinkedIn is a great place for job seekers. Utilize this section on LinkedIn as a free recruitment tool. 
People: Consider encouraging your internal team members to link your company in the "Experience" section from their personal LinkedIn profiles. This adds credibility to your LinkedIn page.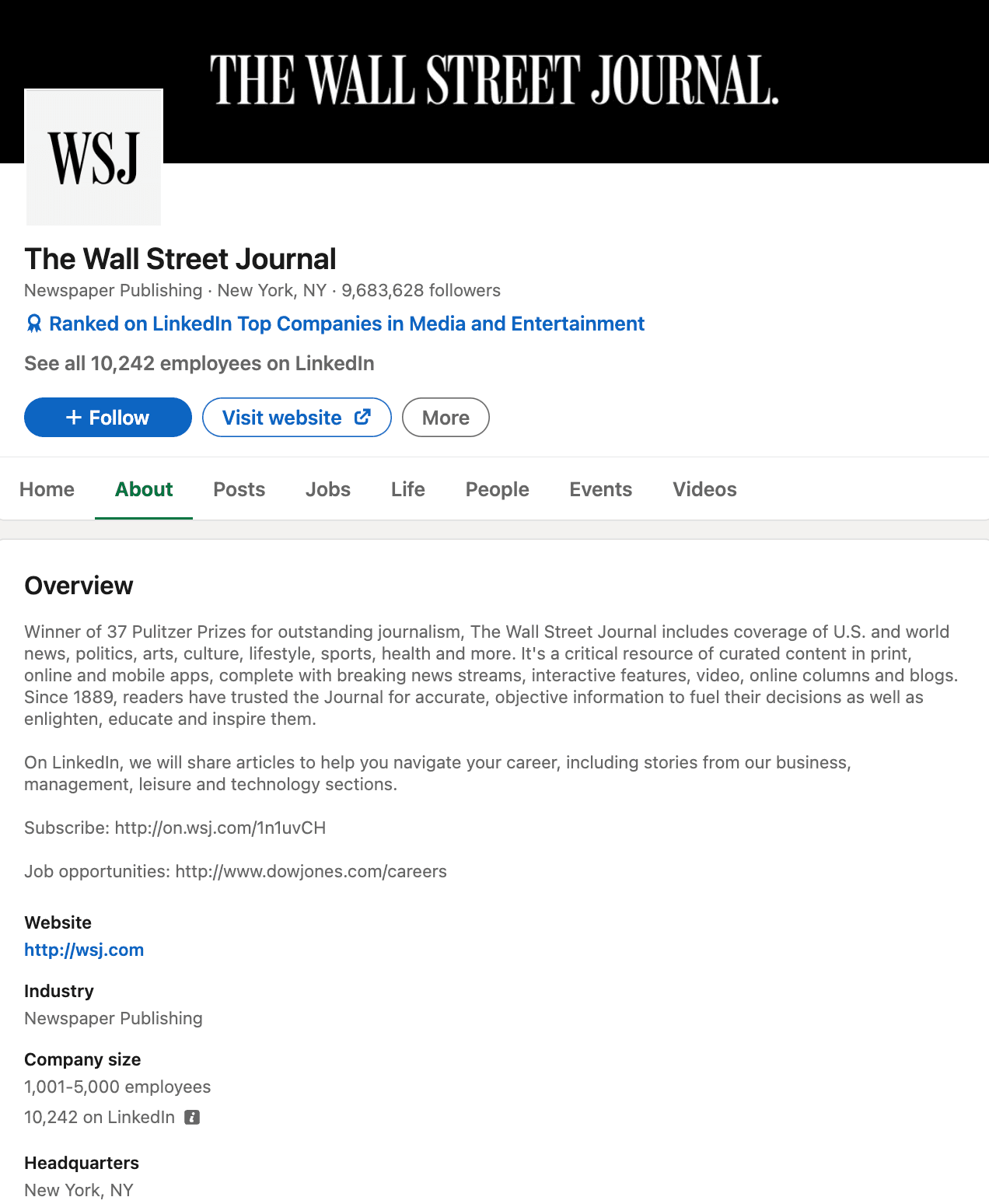 Facebook Profile Details 
Intro text: 101 characters 
About section: 
Contact and basic info: Business category; contact info; website link; basic info (hours, price range, services, diversity info, language)
Privacy and legal info 
Page transparency: This shows creation date, admin info, and other details meant to help people understand the purpose of your page.  
Facebook also enables business pages to add personal information designed for individual profile pages. There does not appear to be much value in adding this information to a business page unless you're a solo entrepreneur. 
Work and education 
Places lived
Family and relationships
Details about you 
Life events 
Other things to keep in mind about your Facebook profile: 
Featured post: This allows you to pin a post to the top of your page feed as a "featured" post. In most cases, you will want to keep this post evergreen, but this can also be a place for company announcements, timeboxed promotions, etc.  
Reviews: Facebook reviews can be solicited and published to your profile. 
Instagram Profile Details 
General Instagram profile details: 
Name
Username
Website*
Bio (150 characters) 
Email
Phone Number
Gender
Professional Instagram account details: 
Category
Business Email
Business Phone 
*Because links included in Instagram posts aren't clickable, the link in your Instagram bio is extremely important, as you will likely use this as your main CTA for the platform. 
Consider using Linktree for your Instagram bio link. Linktree enables you to include multiple links and displays them in a clean list, so your Instagram followers can easily direct themselves to the correct page on your website.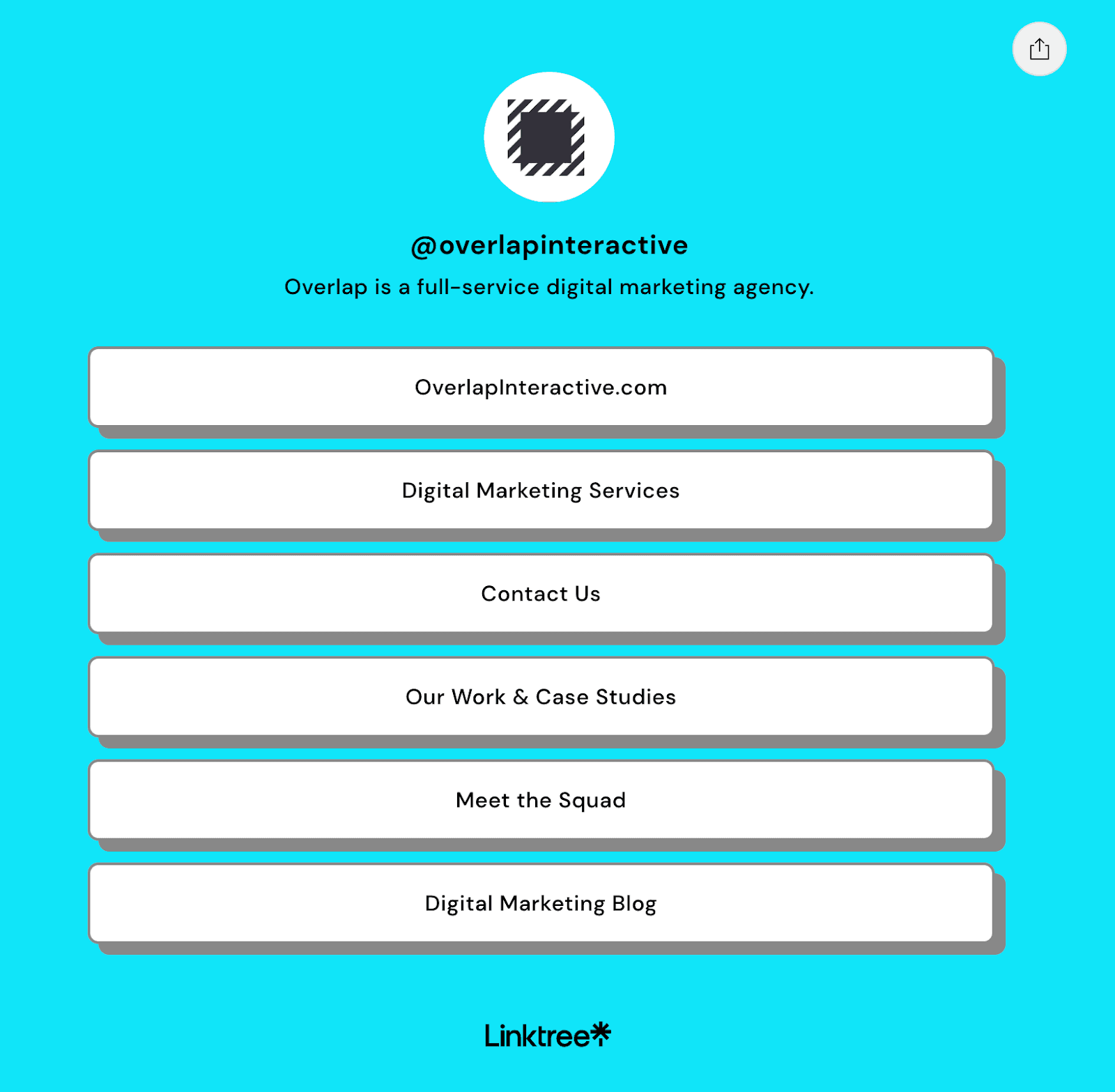 Other things to keep in mind about your Instagram profile: 
Instagram Stories: Instagram Stories is a feature that allows you to share a static image or video with your followers as a story, rather than as a post to your feed. However, story posts are only available for 24 hours unless you select to highlight them on your profile page. Limited time stories can be used for sales, events, etc. to generate excitement and FOMO buzz. 
Instagram Highlights: Through Instagram Highlights, you can give top performing story posts permanent placement on your profile. This can be great for businesses to tell an ongoing story about their company culture, showcase their portfolio of work, and more.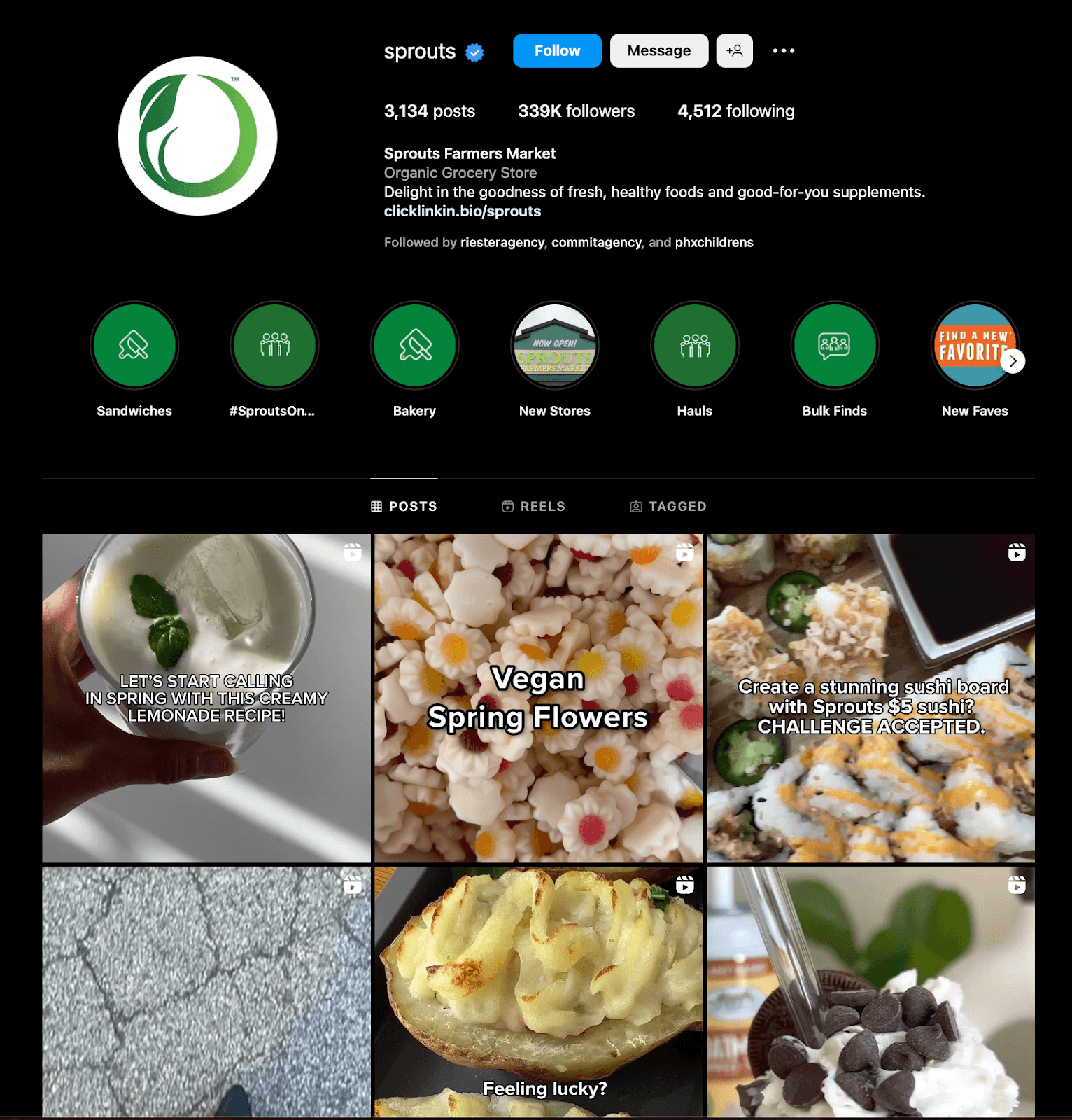 Twitter Profile Details 
Profile text (160 characters) 
Website 
Other things to keep in mind about your Twitter profile: 
Pinned Tweets: Similar to Facebook, you can pin a post to the top of your profile's feed. 
Twitter lists: This feature allows users to organize their Twitter feeds into lists of targeted topics. Anyone can make a public list and add other public profiles to this list. This can be used by businesses to target influential user accounts and build thought leadership.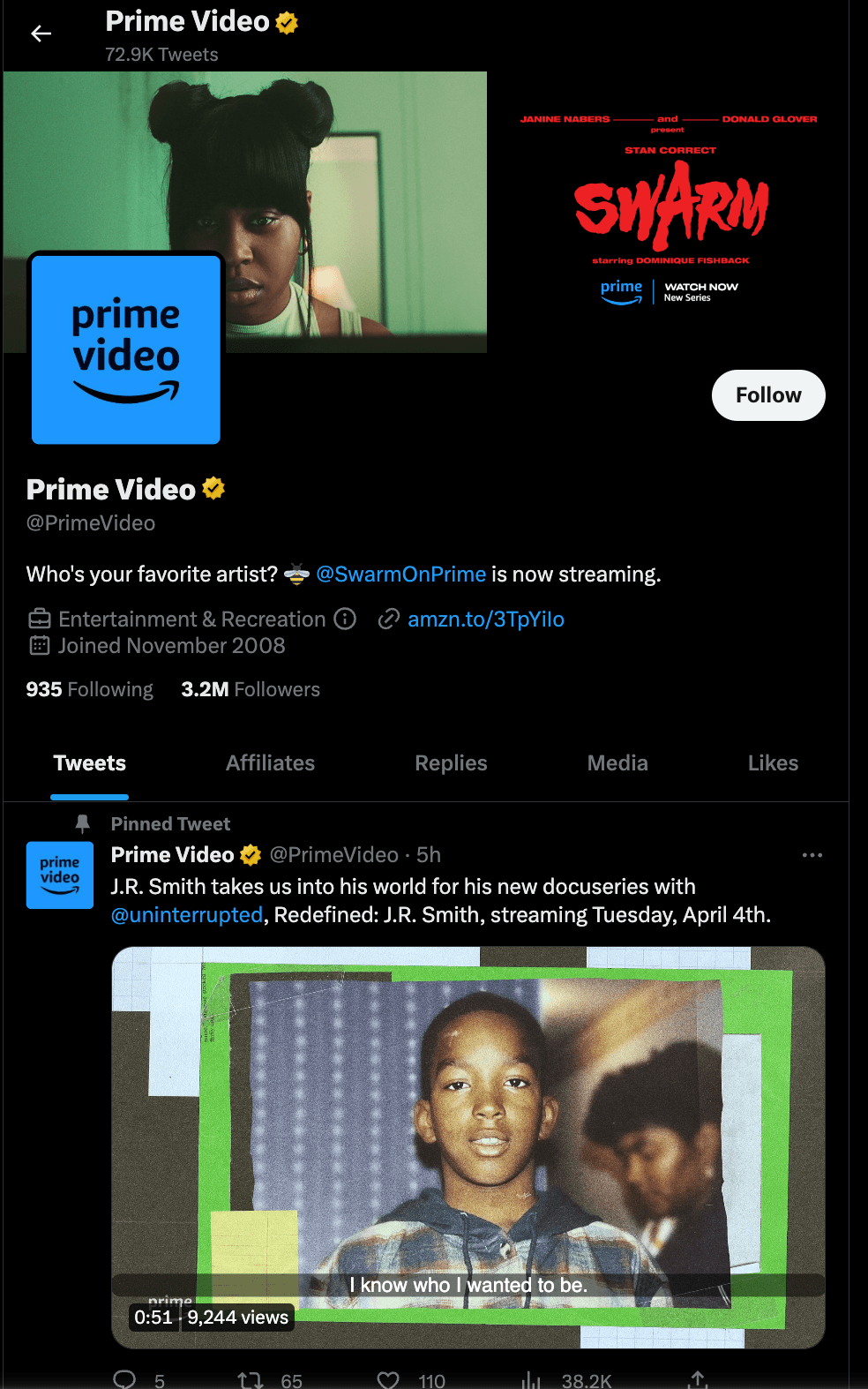 Social Media Performance Audit 
After checking the "frontend" components of your social media accounts, it's time to take a closer look into the backend analytics to get a sense of how your social efforts are impacting your company's bottom line. 
There are two main areas for collecting valuable social media data: the platforms themselves, and Google Analytics. 
Data should be gathered monthly, or more frequently, to accurately measure and compare performance overtime. 
Social Media Platform Analytics 
Each social media platform has an "Insights" or "Analytics" section that enables administrators to obtain metrics related to engagement, page views, audience demographics, content performance, and more. 
The most important metrics to track from social media platforms include: 
Follower count: This metric is most important to track overtime to view audience growth, or lack thereof. If your follower count is going down month over month, that's a big red flag that something is amiss. 
Engagement rate: Tracking monthly engagement rate will help you understand how your content is resonating with your audience and performing overall. 
Individual post performance: Analyzing the top-performing posts from each account informs your strategy moving forward. When do your posts get the most engagement? What type of graphics are you using? Does your audience love video?  
Google Analytics for Social Media 
While most social media platforms provide metrics like link clicks, it's important to verify any website traffic and conversion data in Google Analytics. This will ensure you're measuring outcomes against the rest of your digital marketing efforts, enabling you to better understand how social media fits into your larger online strategy. 
The most important social media metrics to track in Google Analytics include: 
Website traffic: How many visitors are coming to your website directly from each social media platform? 
Conversions: Depending on your product or service, this could include a direct download, submitting a contact form, etc, depending on the conversion events you have set up in GA.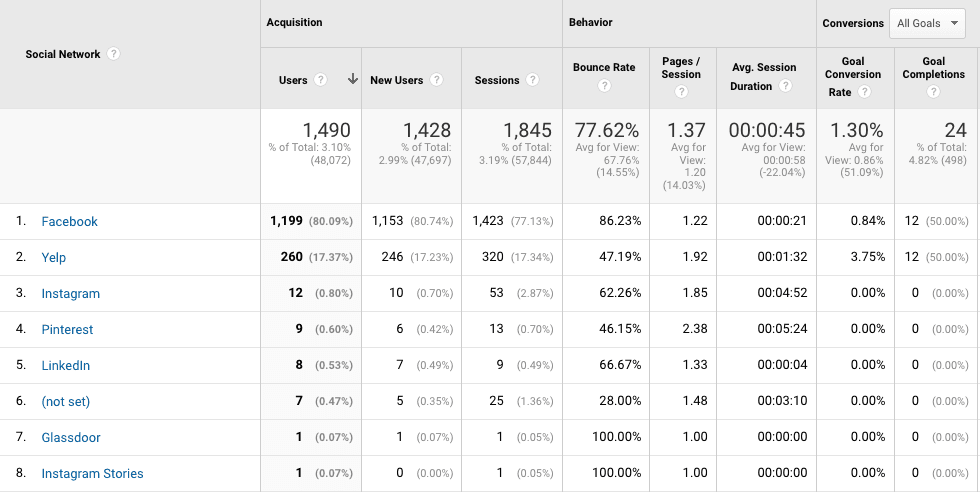 As with all digital marketing work, tracking social media performance over time is crucial. While social media may not generate significant quantitative improvements like direct sales from your website, it's important to remember the necessity of brand exposure and credibility when evaluating whether to limit or abandon your efforts.
Social Media Audit Checklist 
Performing a social media audit might sound overwhelming, but it will be worthwhile for maintaining your company's online brand reputation. 
By following this social media audit checklist, you can be sure to address the most important elements: 
Create a list of all social media accounts across platforms. 
Check for brand consistency across accounts. 
Identify top-performing accounts and content. 
Understand how your audience interacts on each platform. 
Make an action plan for improvements. 
Set goals and create an ongoing strategy. 
Hootsuite offers a free social media audit template for getting started. 
Social Media Marketing with Overlap 
Even the best and beautiful social media content lacks value if no one sees it. But growing your follower account and improving engagement take time and creativity. 
Not to mention.
It can be hard to find motivation to focus on social media if you aren't seeing hard ROI. 
Like it or not, social media is an important part of a cohesive digital marketing strategy and ultimately impacts brand loyalty and credibility. 
Overlap's omnichannel marketing team connects your product or service to the right audience using a holistic perspective and great storytelling. Our marketing strategists, design experts, and savvy developers work together to understand your business needs and develop custom solutions that deliver results. 
So why not let us do the hard social media marketing for you?